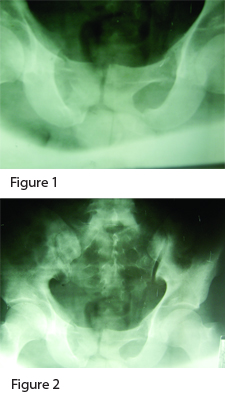 Describe the pelvic findings on this radiograph of a 27-year-old man injured in a motorcycle accident.
A. Bilateral pubic rami and ischial rami fractures; effectively separating the pubic symphysis from the rest of the pelvis (Figure 1). There has been inferior migration of the left side of the pubic symphysis and superior migration of the right side. This is known as a straddle fracture.
B. Traumatic diastasis of the right sacroiliac joint (Figure 2).
What would be the next imaging studies you would choose and why?
– An intravenous pyelogram would be helpful in assessing the status of renal function.
– An MRI would aid in delineating the soft tissue damage incurred.
Let's review some named pelvic fractures:
Bucket handle fracture: superior and inferior pubic ramus fracture with
dislocation of the contralateral sacroiliac joint
Dashboard fracture: posterior acetabular rim fracture
Duverney's fracture: iliac wing fracture
Explosion fracture: central acetabular fracture
Malgaigne's fracture: superior and inferior pubic ramus fracture with dislocation of the ipsilateral sacroiliac joint
Open book fracture = sprung pelvis: separation of the pubic symphysis and both sacroiliac joints •
References:
Yochum TR, Rowe LJ. Essentials of Skeletal Radiology. Baltimore: Williams & Wilkins, 1987.
Deltoff MN, Kogon PL. The Portable Skeletal X-ray Library. St. Louis: Mosby Yearbook, 1997.